Air and Water Show powróci latem do Chicago
Air and Water Show powróci latem do Chicago
Burmistrz Lori Lightfoot ogłosiła nową wersję pokazu Air and Water, który odbędzie się tego lata.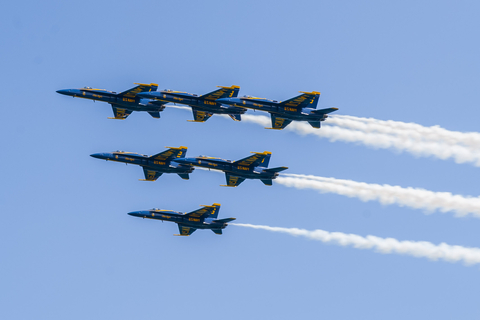 Pokaz, który tradycyjnie prezentuje różne akrobacje i wydarzenia, w tym roku będzie wyglądał inaczej. U.S. Navy's Blue Angels będą główną atrakcją pokazu. Będą one występować wzdłuż nabrzeża jeziora od 12:00 do 1:00 pm w dniach 21 i 22 sierpnia.
Najlepsze miejsca do oglądania pokazu nad brzegiem jeziora znajdują się pomiędzy Oak Street i Fullerton Avenue.
Przeprojektowany Air and Water Show jest częścią inicjatywy "Open Chicago", która ma na celu bezpieczne ponowne otwarcie miasta w całości.
Więcej informacji można znaleźć na stronie internetowej miasta – https://www.chicago.gov/city/en/depts/dca/supp_info/chicago_air_and_watershow.html