Burze, porywisty wiatr i grad
Burze, porywisty wiatr i grad
We wtorek po południu przez Chicago przetoczą się burze z możliwością wystąpienia gradu i silnego wiatru.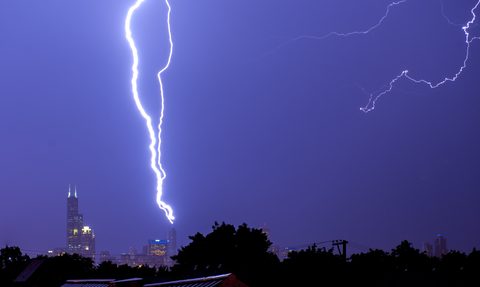 Burze uderzą z północnego zachodu około godziny 15:00, jak podaje Krajowa Służba Pogodowa.
Do wieczora może spaść od ćwierć do pół cala deszczu. Szansa na wystąpienie opadów w Chicago prognozowana jest na 60%.
Gusty thunderstorms are likely (>60% chance) this afternoon, including around Rockford between 12-2p and the Chicago area between 2-5p. Some storms may also produce damaging hail. Have multiple ways to get warnings! #ILwx #INwx pic.twitter.com/TYWzKGgZBV

— NWS Chicago (@NWSChicago) September 7, 2021
Najsilniejszy wiatr będzie między południem a godziną 18.00, może wiać z prędkością 40 mil na godzinę – podała służba meteorologiczna. Istnieje również ograniczone ryzyko wystąpienia gradu.
Meteorolodzy ostrzegają żeglarzy, aby unikali jeziora Michigan – fale mogą wzrosnąć do 5 stóp.