Wypadek pociągu Amtrak – nie żyją 3 osoby
Wypadek pociągu Amtrak – nie żyją 3 osoby
Pociąg Amtrak, który kursuje między Seattle a Chicago, wykoleił się w sobotę po południu w północno-środkowej Montanie. Zginęło 3 osoby, a wiele osób odniosło rany.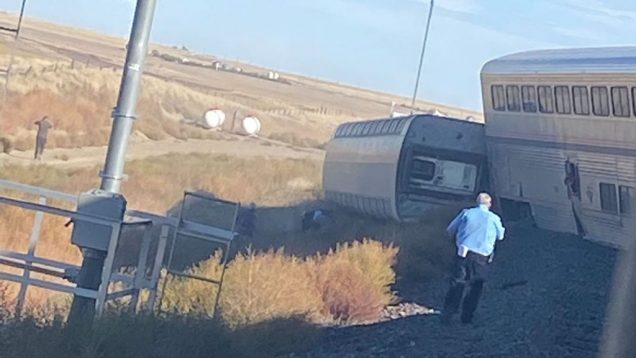 Pociąg "The Empire Builder" jadący z Seattle do Chicago wypadł z torów w pobliżu miejscowości Joplin w powiecie Liberty, jakieś 48 km od granicy z Kanadą. Z torów wypadło w sumie pięć wagonów. W katastrofie zginęły trzy osoby. W pociągu znajdowało się 147 pasażerów i 13 pracowników obsługi.
WATCH: Footage shows aftermath of an Amtrak train that derailed in Montana, 3 dead, multiple people injured

— Inty News (@inty_news) September 26, 2021
Przyczyny katastrofy nie są znane.
@jacob_cordeiro (Jacob Cordeiro on Twitter @jacob_cordeiro)