Wysokie fale i niebezpieczne prądy, czyli sytuacja na jeziorze Michigan
Wysokie fale i niebezpieczne prądy, czyli sytuacja na jeziorze Michigan
Jeśli planujesz wybrać się na plażę i popływać w jeziorze Michigan w niedzielę, lepiej pomyśl jeszcze raz. Narodowa Służba Meteorologiczna twierdzi, że jezioro Michigan będzie zbyt niebezpieczne do pływania, w tym także łodzią przez cały dzień w niedzielę.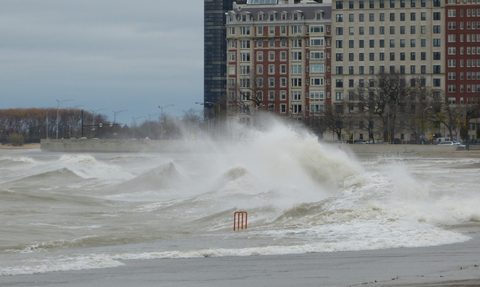 Wysokie fale i niebezpieczne prądy spodziewane są na plażach jeziora Michigan w Cook County i Lake County w Illinois, Kenosha County w Wisconsin oraz Lake i Porter counties w Indianie. Fale mogą osiągnąć wysokość 7 stóp w niedzielę po południu, z najwyższymi falami wzdłuż plaż w północno-zachodniej Indianie.
[4:25 PM 7/31] Breezy north winds behind a cold front will result in another period of dangerous swimming conditions tomorrow and tomorrow night. Remember: Stay dry when the waves are high! #ILwx #INwx pic.twitter.com/pLe1xBDhxR

— NWS Chicago (@NWSChicago) July 31, 2021
Krajowa Służba Meteorologiczna twierdzi, że warunki do pływania będą zagrażać życiu, szczególnie niedoświadczonych pływaków.
Oświadczenie o zagrożeniu na plażach obowiązuje do poniedziałku rano.